Intern or Graduate Building Physics
As an international student you have come to study in the Netherlands. But wouldn't it be nice to experience the practice as well before your choose the topic of your Master thesis? Would you also like to discover what we do? We are happy to share our knowledge with you.
About DGMR
It is our conviction that people are most successful in a sustainable, safe and healthy environment. Every day we challenge ourselves to come up with creative solutions. Effective for society. Innovative for clients. Crucial to the comfortable living environment of today and tomorrow.
In 1980, engineers Van Dalfsen, Gies, Meerdink and Van Rangelrooij started a new and independent engineering and consultancy agency: DGMR. Because they wanted to connect quality to creativity. To seek out the boundaries of possibilities, off the beaten path. To think along with clients in order to surprise them with optimal and integrated solutions.
We provide advice on building physics, sustainability and fire safety for New Babylon in The Hague, the Timmerhuis in Rotterdam, Pulse in Delft, Naturalis in Leiden or the Rijksmuseum in Amsterdam. Valued advice in versatile and high-profile projects.
Next to projects we think that sharing and developing knowledge is really important to stay a frontrunner in our working field. We had quite a lot of interns and graduation students over the past fifteen years, both Dutch and international students, and they were all very happy at doing so. Subjects were for example climate adaptation, big data on NZEB buildings, parametric design of Active House, fire safety of car parks and biobased facades. We also joined the MOR team from TU Delft in 2019 as a coach on building physics.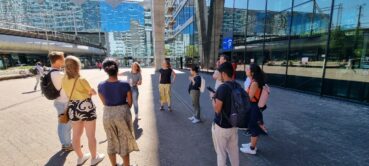 We are looking for you
We are looking for inquisitive and enthusiastic students who are currently following HBO or TU Architecture, Civil Engineering, Building Physics, Mechanical Engineering, Climate & Management or equivalent. Do you have a passion for building physics & sustainability, facade technology or fire safety and affinity with both construction and installation technology, then we have various options for you.